Well, what a cracking win that was. My second match as captain of Hyde Heath (our usual skipper Charlie Samuels was away watching football or something) and the match was a belter. The team I was presented with was distinctly below par – we were missing three first choice seamers, Atif's bemusingly effective off-spin and our number 3 batsman James Shrimpton. Indeed, so light on bowling were we that I had to churn out 12 overs of increasingly lethargic leg-spin. Took a reasonably respectable 2 for 50 though.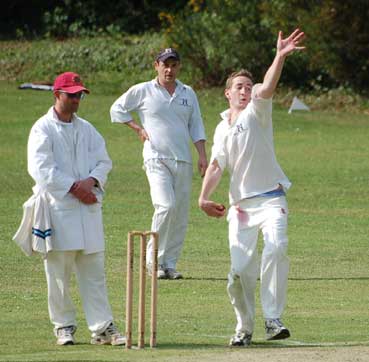 The Lee were our worthy opponents and thanks to some solid batting at the top of the order they managed a reasonably intimidating 207. Despite our limitations in the bowling department we actually did pretty well. Tim Barnsley rolled back the years to take a couple of wickets and Jez (our only front-line medium pacer) overcame a mediocre start to take the crucial wicket of their main batsman, although it was via a pretty terrible LBW decision.
With the pitch playing hard and true there was always a chance we could get the runs, especially if we got off to a reasonable start. Henry Capper made 62 in an innings that alternated between glorious on-drives and fortuitous edges through the slips. Together with, first, the rotund Richard Cousins and then HHCC new boy Anouj, Capper put together a solid platform from which to launch.
Or not. When he top-edged a full-toss, Hyde Heath did what they do best, and wobbled. So out strode the skipper (that's me!) to the crease. With about 100 needed off the final 20, run-rate was never really issue and Jez and I batted sensibly to bring the target ever closer. With only single figures needed to seal a famous victory came a moment of controversy, and one that could only happen in village cricket.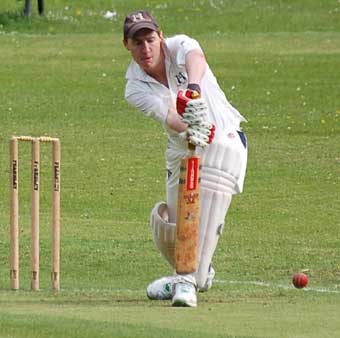 Their left-arm spinner delivered the ball. It was slow and loopy and inviting the drive. I missed it. Overbalancing slightly I left the crease before turning round to see that the keeper had dropped it. I rather lost interest and made no attempt to get back to the crease, instead going for a bit of a wander down the wicket. Their keeper eventually picked up the ball and whipped of the bails. Capper – the square leg umpire – had also neglected to stay alert and rightly said that he couldn't give it out because he hadn't been watching.
What to do? The oppo were maybe being unsporting and I was certainly within my rights to remain at the crease. But as skipper of the noble Heath I had to think of the glory of the club. With only 7 runs needed and 3 wickets surely the match was all but ours? Well, given that 9, 10 and 11 probably had a combined average of 5, we could easily have lost it. Weighing all this up, I'm pleased to say that I did the right thing: tucked my bat under my arm and trooped back to the pavilion. I clearly did right by the notoriously fickle gods of cricket, as two overs later, Jez launched one through the covers to seal a memorable victory.
The real winner then was cricket (and of course Hyde Heath).
Tom