A global first for Cricket Tragics - yes, it's Google Earth Analysis! Plus, a 1,500-word dossier report from the ever-thorough Richard Austin. Rather putting the Tragics editorial team to shame here - perhaps it'll inspire them to raise their game a notch for the last match of the season? Or perhaps not...
Some of you may be familiar with the 'Twelfth Man' recordings by Billy Birmingham which satirise Channel 9's sports coverage in general and cricket in particular. If you haven't listened to the 'tapes' then you really should. One of the best is 'The Final Dig' in which there is spoof coverage of a one-day international between Aus and NZ, set against the backdrop of Richie Benaud planning to retire as Commentary Team Captain and the other (flawed) commentators jostling to replace him. In this match Australia score something over 400 in their 50 overs and the Kiwi's very nearly chase the total down (at one point Richie starts singing 'that's Parore'). Well the Heath's trip to Abbots Langley last Sunday wasn't quite that dramatic, but we did see nearly 500 runs scored off 72 overs!
We've had to endure some pretty dreadful weather this 'summer', so it made a pleasant change to have some proper cricketing weather at last and to be playing away from home on a high-quality ground boasting such luxuries as sight-screens (wow), a scorebox (gosh) and a bar (wahay)! If this all felt a bit like being on tour, Charlie reminded us that Abbots Langley (only one 't' btw) would be a tough challenge, especially as we were fielding a much altered line-up (there were something like 12 players not available) and would be playing a dreaded 'overs game'.
Reduced as we were it says something for The Mighty Heath's talent pool that we still looked a pretty strong team on paper. The good news was we had a variety of bowlers and a whole posse of attacking batsmen. (I say 'posse' but I don't actually know what the collective noun is for middle order batsmen – I plumped for posse as I quite like the cowboy connotations). Less good were the issues of balance in our team in that we had no recognised wicket keeper and no recognised opening partner for Shrimpy. Accordingly (and in view of the scorchingly hot weather) Charlie's plan was to break with long standing HHCC tradition and bat first if we won the toss! A fine plan it was too, the sun was out, the large outfield was lightning fast and the pitch looked likely to be a belter – bowler's purgatory, in other words. Charlie's plan was soon in tatters as the oppo won the toss and decided to bat, so he asked Jez to roll back the years and don the 'keeper's gloves as we all trooped out to field in the baking heat.
Initially all went very well as ALCC struggled slowly to a mere 23 off the first 10 overs. At one end Fiddy located a perfect length and went for a mere 11 off 5 overs, whilst at the other Luke was working up some serious 'wheels' and was unlucky not to pick up a wicket as flashing edges found the gaps in the field. The initial slow run-rate was illusory however, as the change bowlers came on it became clear that their skipper was adopting the 1970's/80's ODI tactic of building slowly initially with an eye for fireworks later (we were to adopt a more modern approach in our innings but more on that anon). What's more, as the change bowlers (Sohail and yours truly) came on, the irritating tendency for the ball to unerringly land in space continued and as the scoring rate began to increase. We were reminded that we were playing on a serious large ground.
After spilling a number of difficult chances we had a brief period of success where we took 2 quick wickets, the second of which was a fine direct-hit run out by Jez who had passed the gloves to Shrimpy and was bowling by now. This simply meant that their skipper (approaching 50 and beginning to look dangerous) was joined by their Aussie 'Pro' who began to dismantle our attack. Our fielders looked like mere dots in a sea of green. Ball after ball flew to the boundary like tracer-bullets avoiding the fielders entirely or ricocheting painfully of shins, elbows, chins and other miscellaneous body parts. It looked likely that we would be faced with a total well past 300. Our bowlers tried to find areas where the Aussie was less destructive but there weren't any. Jez becalmed him for a short while via the innovative tactic of bowling numerous wides but even that was just delaying the punishment. Fortunately for us, both batsmen sportingly retired at 100 leaving the incoming middle-order with little time to get themselves in and thereby providing us with a little respite. The run-rate thus abated somewhat and Abbots Langley finished on a mere 274 for 5. I won't mention our bowler's figures as it would be unsporting to do so.
As the rest of us piled into the marvellous tea-time spread provided by our hosts ('trying to match the Legendary Hyde Heath teas' in the words of their skipper), Charlie was faced with his second conundrum of the day; who to open with Shrimpy? Again, Jez got the nod, which prompted the suggestion that perhaps Liam should go out to umpire just to keep the Duck Award for 2012 interesting! Such speculation was soon ended as Jez got-off the mark confidently with a lovely cut that almost went for four; he was looking good in the demanding role of keeper/bowler/fielder/batsman, until that is he got out next ball to a ball that swung in sharply!
At the other end Shrimpy was timing the ball beautifully and looking in great nick, but when he was run-out and Nick (our overseas pro) followed shortly after, we found ourselves in the parlous position of 17 for 3. If the oppo were tempted to entertain thoughts of an easy win, Luke and Spence suggested that they may have to think again as they re-built the innings with gusto. Luke looked in imperious form unfurling one glorious cover drive after another and was well supported by Fiddy who was timing the ball sweetly. At 90 for 3 after 12 overs we were back in the hunt until Luke found himself on the wrong end of a very harsh leg-before decision just two short of 50. This was a blow, but Sohail and Fidds maintained the tempo of our innings moving the score to 143 for 4 after 19 overs. We were ahead of the asking rate and it was game-on! In fact we had been up with the run-rate from the word go, treating the start of our innings as if it were a power-play with 13 in the first over and adopting (like I mentioned earlier) the modern approach to a limited-overs innings of hitting from the outset.
One highlight of their fifty partnership was a colossal six from Sohail that sailed over the sightscreen into the car park. This brought back memories of his mighty smite against Petts Wood a few years back. I've consulted Google Earth and can confidently measure this hit at a whopping 90m; only 4m shy of the distance he achieved at Petts Wood in 2009: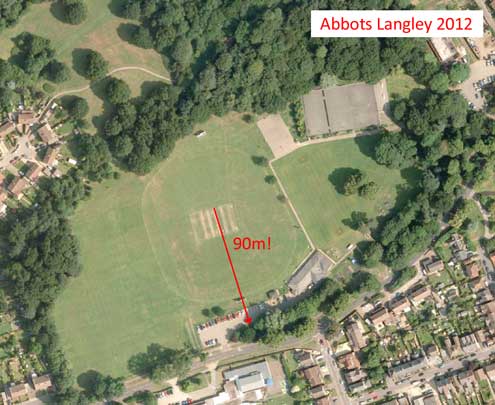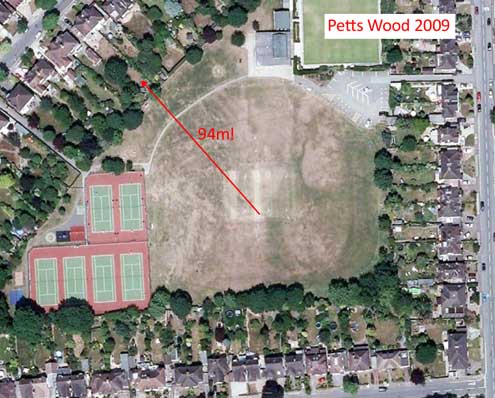 An attempt at repeating this feat over mid-wicket wasn't quite so well timed however and the catch was duly snaffled just shy of the boundary. This brought yours truly to the crease to support Spencer as he approached a maiden (and well-deserved) 50 for the Heath. Unfortunately Fiddy was removed by an absolute peach of a delivery from their promising off-spinner that dipped and spun and removed his off-bail leaving him, like Luke before, just 2 short of 50. It seemed the writing was on the wall now as our 'posse' was nearly gone.
A stand between Jake and I got us to 193 for 6 with 12 overs left and perhaps instilled some last hope for us and some doubt in the minds of the opposition until we pressed for one quick ran 2 too many (I was trying to farm the strike) and Jake was run-out. There was a moment of merriment as Angus our other non-english player (a debateable point as it turns out) walked out to bat with left-handed gloves belonging to the oppo's Aussie. Perhaps he was hoping that some of the magic would rub-off; it didn't - he was bowled by their spinner in similar fashion to Spence and Liam before him. With their seamers about to return there was hope that Charlie could hang around, but it wasn't to be as he also was bowled leaving your correspondent unbeaten on 59 and our innings perforce closed at 219 all out off 32 overs.
Okay so we lost. But it was a manly effort and had we not lost those early wickets we could very easily have won. In any case the result didn't matter that much as it was a thoroughly entertaining game of cricket.